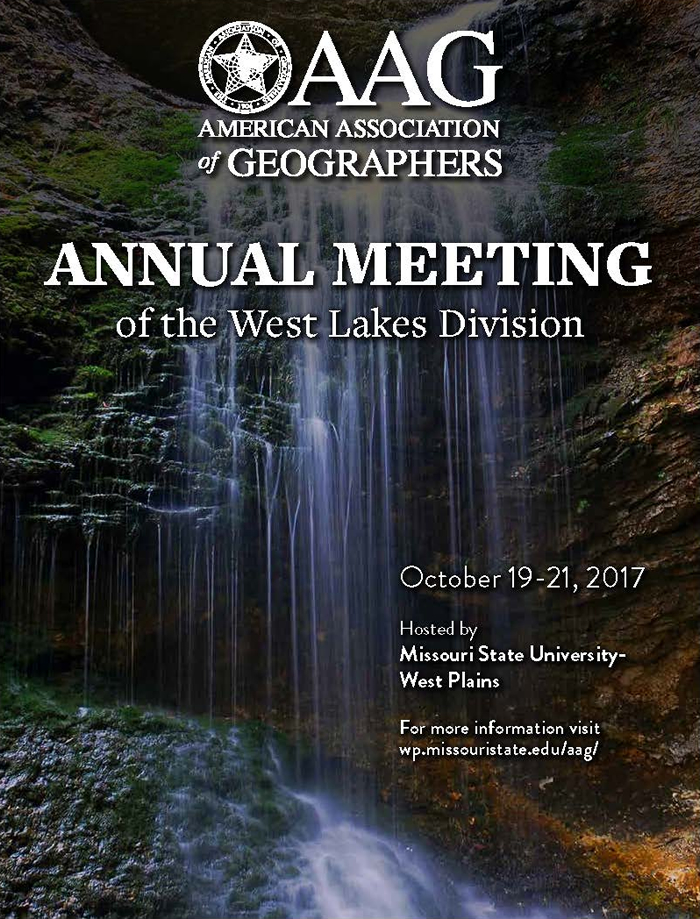 Explore the Ozarks including the Mark Twain National Forest with streams, rivers, lakes and historic mills.
Important Dates
| | |
| --- | --- |
| Call for Session Proposals | September 25, 2017 |
| Call for Papers and Posters | October 15, 2017 |
| Registration deadline | October 15, 2017 |
About
The West Lakes Division of the American Association of Geographers (WLAAG) is the regional division that represents AAG members residing in Upper Peninsula Michigan, Wisconsin, Minnesota, Iowa, Missouri, Illinois and Indiana.
WLAAG promotes the cause of spatial thinking. The annual meetings of the WLAAG provides a platform for teachers, researchers, students, geospatial professionals as well as policy makers to share recent developments in the discipline and display how their perspectives and tools are being used by educators, businesses, researchers and policymakers to address a wide range of scientific problems and societal needs.
The first annual meeting of WLAAG was held at Illinois State University, Bloomington in 1963. Since then each year, the division has held its annual meetings in different places within the region. In the last few years, the annual meetings were held at Northern Michigan University, Marquette, MI (2016), University of Wisconsin, Eau Claire (2015), and Western Michigan University, Kalamazoo (2014).