Dr. Dennis Lancaster selected as Chancellor
For immediate release
Dec. 3, 2021
Contact: Clif Smart, president, Missouri State University
417-836-8500
Missouri State University-West Plains names new chancellor
Dr. Dennis Lancaster becomes permanent chancellor on Jan. 1.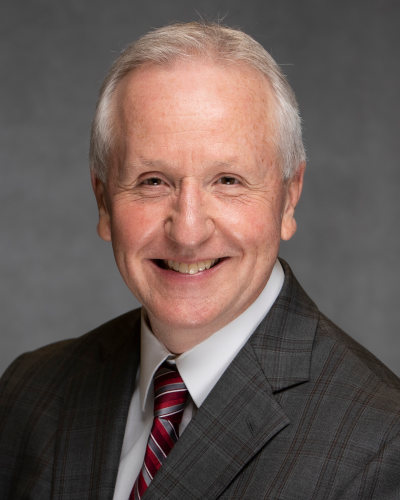 SPRINGFIELD – Dr. Dennis Lancaster is a familiar name and face at Missouri State University-West Plains (MSU-WP). After serving in a variety of teaching and administrative roles for more than three decades, Lancaster will become the university's chancellor on Jan. 1, 2022.
"We had a number of strong candidates for the chancellor position . . ."
---
Finalists for MSU-WP chancellor visiting soon
Missouri State-West Plains Chancellor Search
Missouri State University System President Clif Smart announced in August the opening of a search for the next chancellor of the Missouri State University-West Plains (MSU-WP) campus.
Following Dr. Shirley Lawler's retirement as chancellor in 2020, Dr. Dennis Lancaster has served as interim chancellor to lead the university during the COVID‑19 crisis.
Dr. Jim Baker, vice president for research and economic development and international programs at the Springfield campus, is leading the search committee.
Members of the committee include:
Dr. Jim Baker, Chair
Dr. Gary Phillips, West Plains Faculty
Rachel Peterson, West Plains Staff
Florence James, West Plains Community
John Plummer, West Plains Community
Dr. Juan Meraz, Springfield Assistant Vice President for Diversity and Inclusion
Dr. Brenda Smith, West Plains Faculty
Dr. Michael Orf, West Plains Interim Dean Academic Affairs
Logan Brewer, West Plains Student
Dr. Joye Norris, Springfield Associate Provost
This will be a national search.
Search timeline
An online survey was used to gather input in the selection of a new chancellor. All interested parties were invited to complete the survey. The survey closed Aug. 23.
President Smart met with the search committee on Aug. 27 on the West Plains campus. He shared his vision and charge for the search with committee members.
Following the search committee meeting, members of the West Plains campus and community attended a town hall meeting in Melton Hall. President Smart shared attributes the campus and community would like to see in the next chancellor based on the survey results.
The town hall meeting was recorded and is available on the Chancellor office web site.
Smart said he hopes to have a new chancellor selected by the end of the fall semester.
Missouri State University-West Plains
Missouri State University-West Plains is one of three campuses within the Missouri State University System. The West Plains campus is a teaching and learning institution of higher education offering two-year Associate of Arts, Associate of Applied Science and Associate of Science degrees, certificates and other courses as needed by employers and citizens of the area served.
The college provides a liberal arts transfer curriculum at the freshman and sophomore levels and selected occupational programs, as well as extended learning opportunities through online courses and campuses in Mountain Grove and at Liaoning Normal University (LNU) in Dalian, China, the latter of which is made possible through Missouri State University's existing branch campus at LNU.
The West Plains campus also provides advanced technical training through the Greater Ozarks Center for Advanced Technology (GOCAT), a partnership between the university, the City of West Plains and the West Plains R-7 School District's South Central Career Center. The partnership was developed to provide advanced, hands-on manufacturing training to individuals, from high school age through adulthood, who are looking to expand their skills in a technical field.
A full college experience with quality instruction in a relaxed, personal atmosphere is the hallmark of MSU-WP. The campus promotes academic and personal success through small classes, personalized attention, educational support services and numerous opportunities to participate in extracurricular activities.