Welcome Week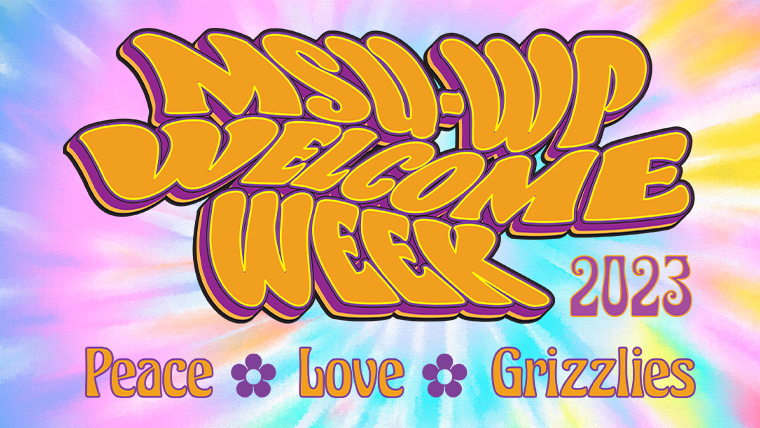 Monday, Aug. 21
Grizz's Block Party, 5 to 8 p.m.
Location: Amphitheater
Co-Sponsored by West Plains Bank and Trust Co.
Carnival Games: Bungee Trampoline, Mechanical Bull, Jousting

Volleyball

Free Food: Cheeseburgers, Chips, Drinks and Dessert

Free T-Shirt Giveaway
Corn Hole
Pictures with Grizz
Tuesday, Aug. 22
Rice Necklaces, 10 a.m. to 2 p.m.
Location: Carol Silvey Student Union in Hass-Darr Hall
Make your personalized rice necklace with the vice chancellor of student services
Comedian Jessi Campbell
Location: West Plains Civic Center Theater
Doors open at 6 p.m. Show starts at 7 p.m. Free admission for students.
Wednesday, Aug. 23
Sample West Plains & Job Fair, 11 a.m. to 1 p.m.
Location: Student Recreation Center
Co-Sponsored by Career Services
Free coupons, food samples and giveaways to local businesses and restaurants
Learn about student organizations and job opportunities on and off-campus
Enter for a chance to win a prize pack bundle that will be given away at Convocation! (Student must be present to win.)
First 100 students will receive MSU-WP stadium cup at check-in!
Game Night, 6 to 9 p.m.
Location: Carol Silvey Student Union, 1963 Game Lounge
Co-Sponsored by Grizzly eSports Program
Video games
Board games
Corn hole tournament
Ping pong tournament
Free food & drinks
Enter to win a new iPad
Thursday, Aug. 24
Campus Scavenger Hunt
Starting Location: Hass-Darr 103
Instructions Given at Starting Point
9 a.m. to 4 p.m.
Teams of 3-5 Students
Complete at your own pace.

Must be completed by 4 p.m.

Gift card prizes
Waterpalooza, 6 to 8 p.m.
Location: Grassy Area Below the Amphitheater
Co-Sponsored by the Christian Campus House
75' Slip n' Slide waterslide
Giant water pong
Dunk Tank
Free Ice Cream
Friday, Aug. 25
Convocation, 10 to 11 a.m.
Location: West Plains Civic Center Theater
Steering Committee
Luke Hurtt

– Chair
Douglas Cooley II
Lauren Willis
Lindsey Hicks
Morgan Blanck
Abbi Horstman
Madison Kaufman
If you have any questions please contact:
Luke Hurtt
Coordinator of Student Life and Development
Missouri State University-West Plains
Phone: (417) 255-7233
or
You need Adobe Reader to view and print this document.