Chapter 30 – Montgomery GI Bill® Active Duty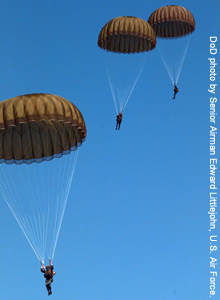 Persons who entered active duty after July 1, 1985, and had their military pay reduced by $100 per month for 12 months, may qualify for this program. This is a non-refundable contribution. These persons also must have served a minimum of two years, earned a high school diploma or its equivalent either prior to, or during the qualifying enlistment, and must have an honorable discharge. Other requirements may apply.
Chapter 1606 – Members of the Montgomery GI Bill® Selected Reserve/National Guard
This program provides benefits for members of the Reserve/National Guard who enlisted, re-enlisted or extended their enlistment for a period of six years after July 1, 1985
Chapter 35 – Dependents or Spouse of 100% Disabled or Deceased Veterans
This program provides benefits for dependents and spouses of veterans who died or are 100% disabled due to service-connected causes.
Chapter 31 – Vocational Rehabilitation/Disabled Veterans
Eligibility for this program is determined by the U.S. Department of Veterans Affairs. The program provides payment of required fees and a monthly allotment.
This program provides financial support for education and housing to individuals with at least 90 days of aggregate service on or after September 11, 2001 or individuals discharges with a service-connected disability after 30 days. You must have received an honorable discharge to be eligible for Post 9-11 GI Bill®.